Spectacle « How to become Parisian in one hour? »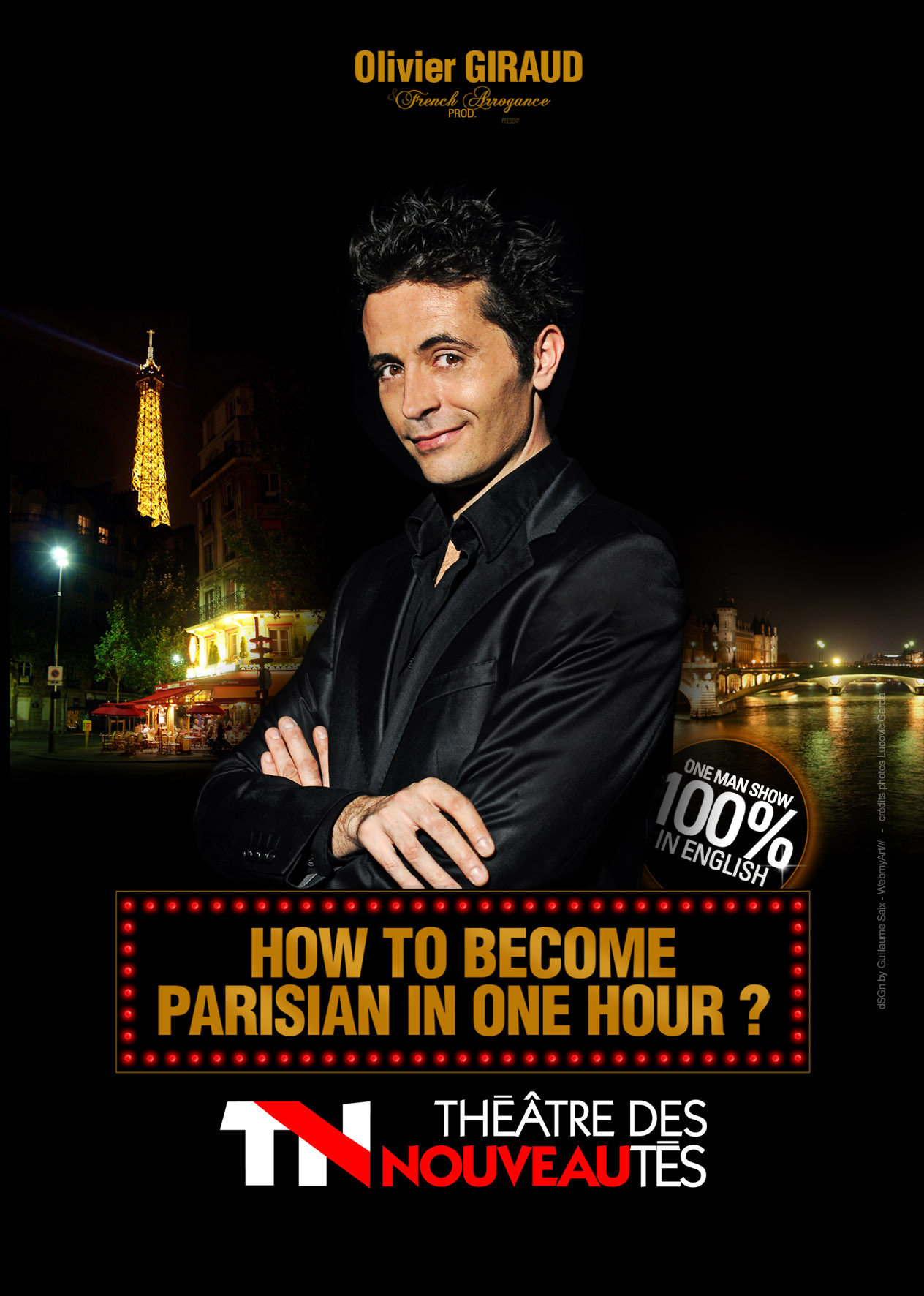 Le one-man show d'Olivier Giraud « How to become Parisian in one hour? » est un spectacle humoristique d'1h10 sur les parisiens dans leur quotidien, joué en anglais (d'un niveau de langue très accessible).
Le one-man show est présenté sous forme de leçons qui permettent « d'apprendre » à se comporter comme un vrai parisien dans le métro, au restaurant, en boîte de nuit, et même avec ses futures conquêtes amoureuses.
Tarif préférentiel de 15€ pour les étudiants de l'académie de Créteil. Ce tarif ne s'applique pas au samedi qui est en tarif plein.
Réservation/Achats:
Les réservations peuvent se faire aussi bien pour des groupes que pour des individuels.  Trois possibilités sont mises en place pour réserver et acheter des billets:
Achat de dernière minute: les étudiants peuvent se rendre directement à la caisse du Théâtre pour acheter les billets. Afin de bénéficier du tarif à 15€, il faut se munir d'un justificatif de scolarité (carte étudiante).
Réservation à l'avance: les étudiants peuvent également contacter Claudie par téléphone au 06.98.57.45.98 ou par mail claudiepichon@hotmail.com pour réserver leurs places. Le paiement se fera par téléphone, ils récupéreront leurs billets au guichet de retrait du théâtre, le soir de la représentation, ainsi que leur ticket de carte bleue.
Réservation en ligne: les étudiants peuvent à présent réserver directement en ligne à l'aide du code promo ÉTUDIANTS et bénéficier de leur avantage tarifaire sur le site www.theatredesnouveautes.fr.
Dates, heures et lieu:
Cette offre s'applique aux séances du jeudi et vendredi à 19h00 et du dimanche à 18h00.
Attention le spectacle sera joué tout l'été jusqu'au 16 septembre 2017 du mercredi au samedi à 21h00.
La programmation habituelle reprendra à partir du 30 septembre 2017: jeudi, vendredi et samedi à 19h00 et le dimanche à 18h00.
Vous pouvez consulter le planning pour l'année universitaire 2017/2018 en cliquant sur le lien ci-après: Planning How to become Parisian.
Adresse: Théâtre des Nouveautés (600 places) : 24 boulevard Poissonnière – 75009, métro Grands Boulevards (sortie 6).
Pour plus d'informations sur le spectacle, vous pouvez cliquer ici.